Welcome to my lab!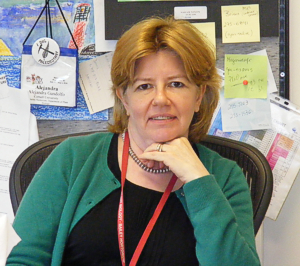 Dr. Maria A. Gandolfo-Nixon
Plant Histology Unit
410 Mann Library Building
L. H. Bailey Hortorium
Department of Plant Biology
Cornell University
Ithaca, NY 14853 
Phone: 607-255-3273
Fax: 607-255-5407
Email: mag4@cornell.edu
---
Lab News
4/15/2014
We are pleased to announce that our paper titled "Reporte preliminar sobre la paleoflora de la Formación La Colonia (Campaniano-Maastrichtiano, Cretácico tardío), Chubut, Patagonia, Argentina" just came out. This paper is an invited contribution to a special issue of the Boletín de la Sociedad Geológica Mexicana. Thank you so much Laura Calvillo Canadell and Sergio Cevallos Ferris for inviting us to participate.
1/25/2014
The published version of our paper "New marsileaceous fossils from the Late Cretaceous of South America and a reevaluation of Marsileaceaephyllum" is now available in Plant Systematics and Evolution. We are very proud that it made the cover!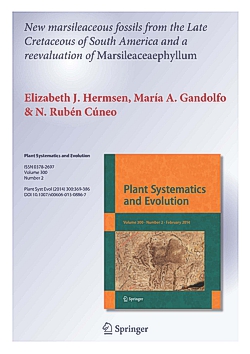 10/28/2013
Last week, Drs. Peter Linder and Yaowu Xing visited the lab. During their visit they worked with Dr. Gandolfo in various projects on Cenozoic paleoflora radiations. These projects are supported by the Swiss National Fund.
10/20/2013
Good bye and good luck, Julieta!
Juli is returning to Trelew, Argentina, after spending a year and a half in Ithaca. She will continue her work on fossils and on finishing her Ph.D. Thesis. We will miss you!