Welcome to my lab!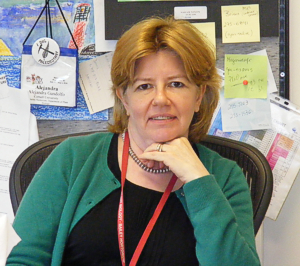 Dr. Maria A. Gandolfo-Nixon
Plant Histology Unit
410 Mann Library Building
L. H. Bailey Hortorium
Department of Plant Biology
Cornell University
Ithaca, NY 14853 
Phone: 607-255-3273
Fax: 607-255-5407
Email: mag4@cornell.edu
---
Lab News
3/4/2015
Collaboration really matters!
We are very pleased to announce that since the beginning of 2015, three papers result of multiple collaborations have been published, they were supported by two NSF grants.
Two papers were published at the Botanical Journal of the Linnean Society: Phylogenetics, divergence times, and diversification from three genomic partitions in monocots and Monocot fossils suitable for molecular dating analyses. Both contributions were originally presented at the 5th. International Conference on Comparative Biology of Monocotyledons-Monocots V held in 2013 at the New York Botanical Garden.
Ginkgoites patagonica (Berry) comb. nov. from the Eocene of Patagonia, Last Ginkgoalean Record in South America published at the International Journal of Plant Sciences is a major contribution on our knowledge of the Gingoales.
CONGRATS to all my co-authors, it was pleasure to collaborate with you and most important I hope to continue collaborating.
Launch of the "Fossil Calibration Series and Database"
CONGRATULATIONS to David Polly, Daniel Ksepka and James Parham! After several meetings and workshops, the Fossil Calibration Series and Database is finally launched. Please if you want to contribute contact them or any of the scientists listed in the following paper Announcing the Fossil Calibration Series and Database. Contributions are highly appreciated!
11/17/2014
Dr. Gandolfo participated in the 4th International Paleontological Congress that was held in Mendoza, Argentina between September 27 and October 4. She organized the symposium titled "Evolution of Early Angiosperms", and presented two contributions, "An updated comprehensive study of Cretaceous-Paleogene angiosperms from Argentina" that she co-authored with several Argentinean and American colleagues in the mentioned symposium and one titled "Comprehensive study of Antarctic- Patagonian plant diversity during the Cretaceous-Tertiary is essential for understanding modern Southern American plant distribution" with Dr. Maria C. Zamaloa, which it was part of the symposium "Cretaceous-Tertiary palaeobiogeographic connections with Antarctica".
Both contributions are the result of research done for NSF-DEB 0830020 Collaborative research: From Acorus to Zingiber- Assembling the phylogeny of the monocots, and NSF- DEB 0918932 Collaborative research: Ancient biodiversity hotspot in Southern South America: Evolution of speciose floras in Patagonia from Latest Cretaceous to Middle Eocene.
11/14/2014
NEW COURSE: "The Art of Plant Anatomy" course is designed specifically for the Horticulture minor with a focus in Botanical Art. The course will be taught as a combination of lecture-laboratory emphasizing on the morphological characters of the cells and tissues, and their structural position with the main goal of increasing awareness of their basic features and of the bi-and tri-dimensional reconstruction of the studied structure. For further information please the "Courses" page.
We are very pleased to announce that our paper on aquatic Araceae fossil from the Cretaceous La Colonia Formation, Patagonia, Argentina has been published. Julieta Gallego, the first author of the contribution, worked on these fossils while she was visiting the lab. Congrats Juli!