Welcome to my lab!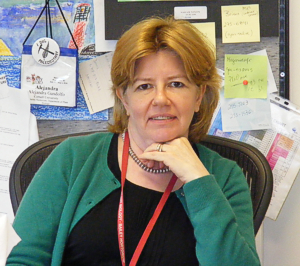 Dr. Maria A. Gandolfo-Nixon
Plant Histology Unit
410 Mann Library Building
L. H. Bailey Hortorium
Department of Plant Biology
Cornell University
Ithaca, NY 14853 
Phone: 607-255-3273
Fax: 607-255-5407
Email: mag4@cornell.edu
---
Lab News
8/10/2015
Welcome Forrest! Yangjun Forrest Lai just joined our lab where he will spend the next year working with Drs. Gandolfo and Crepet. Forrest comes from the Department of Paleobotany and Palynology, Nanjing Institute of Geology and Paleontology, Chinese Academy of Sciences, China. For his Master's, Forrest worked on the systematics and biogeography of Sunipia s.l. (Orchidaceae), and now he is pursing a Ph. D. at the Nanjing Institute of Geology on the evolution and biogeographic history of Liquidambar and its environmental background. We are sure he will have a great time here at Cornell University and Ithaca.
8/7/2015
Dr. Gandolfo recently participated in the Botany 2015 meeting in Edmonton, Alberta, Canada during July 25-29. She presented the talk "An Updated Comprehensive Study of Cretaceous-Paleogene Angiospmers from Argentina" with Drs. M.C. Zamaloa, A. Archangelsky, S. Archangelsky, V. Barreda, N R. Cúneo, E. Hermsen, A. Iglesias, M. Llorens, P. Narvaez, M. Passalia, V. Perez Lonaize, L. Povilauskas, M. Pramparo, G. Puebla, M. Quattrocchio, E. Romero, P. Vallati and P. Wilf. She also co-authored 3 other contributions. With Drs. Zamaloa and Hermsen who presented the contribution titled "What are the Miocene floras from Tierra del Fuego, Patagonia, Argentina, telling us?". The other two were collaborations presented at the Mesozoic and Cenozoic plant evolution and biotic change: A symposium in honor of Ruth Stockey; Dr. Escapa was in charged of presenting a paper with Drs. Gandolfo, Nixon and Crepet as co-authors on "New Cupressaceae sensu lato from the Cretaceous Raritan Formation (New Jersey, USA): morphology and anatomy of conifer mesofossils in the digital era" while Dr. Wilf presented the "Early Eocene Physalis fruits from Patagonia turn back the clock on evolution of Solanaceae and inflated calyx syndrome" that was co-authored by. M.R. Carvhalo, M.A. Gandolfo, and N.R. Cúneo. Needless to say we had a wonderful time at Edmonton…
3/4/2015
Collaboration really matters!
We are very pleased to announce that since the beginning of 2015, three papers result of multiple collaborations have been published, they were supported by two NSF grants.
Two papers were published at the Botanical Journal of the Linnean Society: Phylogenetics, divergence times, and diversification from three genomic partitions in monocots and Monocot fossils suitable for molecular dating analyses. Both contributions were originally presented at the 5th. International Conference on Comparative Biology of Monocotyledons-Monocots V held in 2013 at the New York Botanical Garden.
Ginkgoites patagonica (Berry) comb. nov. from the Eocene of Patagonia, Last Ginkgoalean Record in South America published at the International Journal of Plant Sciences is a major contribution on our knowledge of the Gingoales.
CONGRATS to all my co-authors, it was pleasure to collaborate with you and most important I hope to continue collaborating.
Launch of the "Fossil Calibration Series and Database"
CONGRATULATIONS to David Polly, Daniel Ksepka and James Parham! After several meetings and workshops, the Fossil Calibration Series and Database is finally launched. Please if you want to contribute contact them or any of the scientists listed in the following paper Announcing the Fossil Calibration Series and Database. Contributions are highly appreciated!