Welcome to my lab!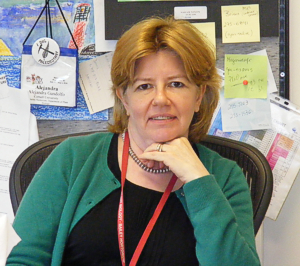 Dr. Maria A. Gandolfo-Nixon
Plant Histology Unit
410 Mann Library Building
L. H. Bailey Hortorium
Department of Plant Biology
Cornell University
Ithaca, NY 14853 
Phone: 607-255-3273
Fax: 607-255-5407
Email: mag4@cornell.edu
---
Lab News
10/28/2013
Last week, Drs. Peter Linder and Yaowu Xing visited the lab. During their visit they worked with Dr. Gandolfo in various projects on Cenozoic paleoflora radiations. These projects are supported by the Swiss National Fund.
10/20/2013
Good bye and good luck, Julieta!
Juli is returning to Trelew, Argentina, after spending a year and a half in Ithaca. She will continue her work on fossils and on finishing her Ph.D. Thesis. We will miss you!
10/10/2013
Welcome! Two students have started rotation in the Gandolfo lab, Dana Robinson and Camila Martínez.
Dana Robinson: I'm a recent graduate of Knox College and a first-year Ph.D student at Cornell. I'm interested in the evolution of subterranean sexual reproductive strategies (amphicarpy and geocarpy) in the Leguminosae. In the Gandolfo lab, I'm working on a comparative anatomical study between the subterranean fruits of two amphicarpic species, Amphicarpaea bracteata and Glycine falcata.
Camila Martínez: I am a Biologist from Colombia and I am interested in tropical plant science, paleobotany, systematics and evolution. Specifically, I have been working, in the tropical angiosperms fossil record, its relation with molecular phylogenies, biogeographic reconstructions, climate change and diversification process in the Neotropics. I did my undergrad and my master program in the Universidad de los Andes in Bogotá, Colombia. Since 2008, I have been working in different paleobiology projects at the Smithsonian Tropical Research Institute, Panama. During my doctoral program in Cornell University, I would like to keep studying tropical plant evolution and climate change in the light of plant fossil record.
9/13/2013
Please check our recently published paper on ferns from the Laguna del Hunco paleoflora. This report constitutes the first record on ferns for the paleoflora. The contribution is titled "First record of Todea (Osmundaceae) in South America, from the early Eocene paleorainforests of Laguna del Hunco (Patagonia, Argentina)" and it is published in the American Journal of Botany.
8/20/2013
We are happy to announce that our newest paper on the La Colonia Formation was published this month, "New marsileaceous fossils from the Late Cretaceous of South America and a reevaluation of Marsileaceaephyllum" in the journal Plant Systematics and Evolution and can be seen here.