Welcome to my lab!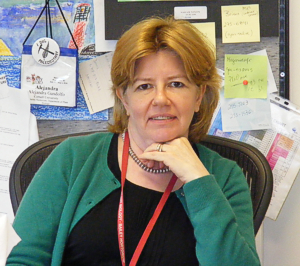 Dr. Maria A. Gandolfo-Nixon
Plant Histology Unit
410 Mann Library Building
L. H. Bailey Hortorium
Department of Plant Biology
Cornell University
Ithaca, NY 14853 
Phone: 607-255-3273
Fax: 607-255-5407
Email: mag4@cornell.edu
---
Lab News
11/17/2014
Dr. Gandolfo participated in the 4th International Paleontological Congress that was held in Mendoza, Argentina between September 27 and October 4. She organized the symposium titled "Evolution of Early Angiosperms", and presented two contributions, "An updated comprehensive study of Cretaceous-Paleogene angiosperms from Argentina" that she co-authored with several Argentinean and American colleagues in the mentioned symposium and one titled "Comprehensive study of Antarctic- Patagonian plant diversity during the Cretaceous-Tertiary is essential for understanding modern Southern American plant distribution" with Dr. Maria C. Zamaloa, which it was part of the symposium "Cretaceous-Tertiary palaeobiogeographic connections with Antarctica".
Both contributions are the result of research done for NSF-DEB 0830020 Collaborative research: From Acorus to Zingiber- Assembling the phylogeny of the monocots, and NSF- DEB 0918932 Collaborative research: Ancient biodiversity hotspot in Southern South America: Evolution of speciose floras in Patagonia from Latest Cretaceous to Middle Eocene.
11/14/2014
NEW COURSE: "The Art of Plant Anatomy" course is designed specifically for the Horticulture minor with a focus in Botanical Art. The course will be taught as a combination of lecture-laboratory emphasizing on the morphological characters of the cells and tissues, and their structural position with the main goal of increasing awareness of their basic features and of the bi-and tri-dimensional reconstruction of the studied structure. For further information please the "Courses" page.
We are very pleased to announce that our paper on aquatic Araceae fossil from the Cretaceous La Colonia Formation, Patagonia, Argentina has been published. Julieta Gallego, the first author of the contribution, worked on these fossils while she was visiting the lab. Congrats Juli!
8/26/2014
We are very pleased to announce that two papers on Cretaceous floras from Argentina have been published. My colleagues, Drs. Griselda Puebla and Mercedes Pramparo and myself described aquatic ferns from the Upper Cretaceous Loncoche Formation, Mendoza. The paper is published in Plant Systematics and Evolution: "Aquatic ferns from the Upper Cretaceous Loncoche Formation, Mendoza, central-western, Argentina".
The other paper titled "Late Cretaceous Aquatic Plant World in Patagonia, Argentina" is published at PlosOne with my colleagues Ruben Cuneo, Mari Zamaloa and Liz Hermsen.
Congrats to all co-authors!
4/15/2014
We are pleased to announce that our paper titled "Reporte preliminar sobre la paleoflora de la Formación La Colonia (Campaniano-Maastrichtiano, Cretácico tardío), Chubut, Patagonia, Argentina" just came out. This paper is an invited contribution to a special issue of the Boletín de la Sociedad Geológica Mexicana. Thank you so much Laura Calvillo Canadell and Sergio Cevallos Ferris for inviting us to participate.