Bienvenidos a mi laboratorio!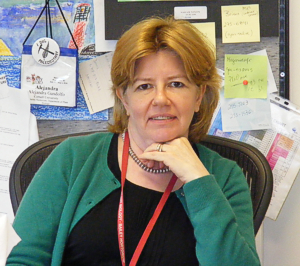 Dra. Maria A. Gandolfo-Nixon
Plant Histology Unit
410 Mann Library Building
L. H. Bailey Hortorium
Department of Plant Biology
Cornell University
Ithaca, NY 14853 
Phone: 607-255-3273
Fax: 607-255-5407
Email: mag4@cornell.edu
---
Noticias
4/3/2015
Colaboraciones realmente son importantes!
Me agrada anunciar que desde el comienzo del 2015, tres contribuciones resultado de multiples colaboraciones han sido publicadas, las mimsmas fueron subensionadas por dos subsidios de la NSF.
Dos trabajos fueron publicados en el Botanical Journal of the Linnean Society: Phylogenetics, divergence times, and diversification from three genomic partitions in monocots y Monocot fossils suitable for molecular dating analyses. Ambas contribuciones fueron originalmente presentadas en el 5th. International Conference on Comparative Biology of Monocotyledons-Monocots V que se llevo a cabo en el 2013 en el New York Botanical Garden.
Ginkgoites patagonica (Berry) comb. nov. from the Eocene of Patagonia, Last Ginkgoalean Record in South America publicado en el International Journal of Plant Sciences es una contribucion critica para nuestro conocimento de las Ginkgoales.
FELICITACIONES a todos mis co-autores, fue un placer colaborar con ustedes y espero poder continuar colaborando!
Lanzamiento de la "Fossil Calibration Series and Database"
FELICITACIONES a David Polly, Daniel Ksepka y James Parham! Después de varias reuniones y talleres, la Fossil Calibration Series and Database fue lanzada. Por favor, si estan ineteresados en contribuir, peuden ponerse en contacto con ellos o cualquiera de los científicos que figuran en la lista 1 del siguiente documento Announcing the Fossil Calibration Series and Database. Las contribuciones son muy apreciadas!
17/11/2014
Dr. Gandolfo participó en el 4º Congreso Internacional Paleontológico que se realizó en Mendoza, Argentina entre el 27 de Septiembre y el 4 de Octubre. Organizó el simposio titulado "Evolution of Early Angiosperms", y presentó dos contribuciones, una titulada "An updated comprehensive study of Cretaceous-Paleogene angiosperms from Argentina" con varios colegas argentinos y estadounidenses en el simposio mencionado, y una titulada "Comprehensive study of Antarctic- Patagonian plant diversity during the Cretaceous-Tertiary is essential for understanding modern Southern American plant distribution" con la Dra. María C. Zamaloa, que fue parte del simposio "Cretaceous-Tertiary palaeobiogeographic connections with Antarctica".
Ambas contribuciones son el resultado de las investigaciónes financiadas por la NSF-DEB 0830020 Collaborative research: From Acorus to Zingiber- Assembling the phylogeny of the monocots, and NSF- DEB 0918932 Collaborative research: Ancient biodiversity hotspot in Southern South America: Evolution of speciose floras in Patagonia from Latest Cretaceous to Middle Eocene.
14/11/2014
Estamos muy contentos de anunciar que nuestro trabajo sobre las Araceae acuáticas fósiles de la formación cretácica La Colonia, Patagonia , Argentina ha sido publicado. Julieta Gallego , la primera autora de la contribución, trabajó en estos fósiles mientras estaba de visita en el laboratorio. Felicitaciones Juli!