Bienvenidos a mi laboratorio!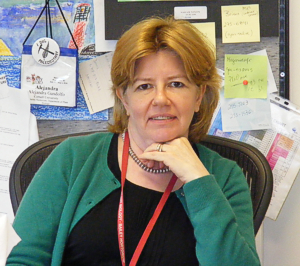 Dra. Maria A. Gandolfo-Nixon
Plant Histology Unit
410 Mann Library Building
Department of Plant Biology
L. H. Bailey Hortorium
Cornell University
Ithaca, NY 14853 
Phone: 607-255-3273
Fax: 607-255-5407
Email: mag4@cornell.edu
---
Noticias
13/3/2013
Estamos felices de anunciar la publicación de nuestro último artículo sobre la Formación La Colonia titulado "Regnellidium (Salviniales, Marsileaceae) Macrofossils and Associated Spores from the Late Cretaceous of South America", en el numero especial del International Journal of Plant Sciences en honor al Dr. Thomas N. Taylor. El articulo peude ser visto aqui.
1/2/2013
Noticias sobre la "Fossil Calibration Database" y la revista de acceso libre "Palaeontologia Electronica" sobre la "Fossil Calibration Series". Considere enviar una contribucion.